Craig Pawson has been confirmed as the referee for the match between Liverpool and Man City in the Community Shield, with criticism of the official Jurgen Klopp.
Technically, the Reds start the season on July 30 Man City in Royal Force – although Community Shield is, of course, a glorified friendly game.
However, this will be Liverpool's first opportunity to claim silverware and given that they are up against Major leagueTwo perennial title contenders against each other will be highly contested.
The game is just over three weeks away confirmed that Pawson would be the leading man Leicester.
He will be supported by assistants Harry Leonard and Nick Hopton, with Darren England as the fourth official and John Brooks in the VAR booth.
It comes after four high-profile referees announced their retirements this summer and Pawson is likely to see his duties increase with Mike Dean, Martin Atkinson, John Moss and Kevin Friend.
Pawson is not the only referee to come under fire from Klopp, but the Liverpool manager's words about the 43-year-old in November were particularly harsh.
After the award decision West Ham goal in the Reds' 3-2 defeat in East London despite an obvious foul AlisonKlopp accused Pawson of "hiding" behind VAR.
"Not all judges do, but he does. Not all judges," he told reporters.
"That's the situation, he's thinking, 'OK, let's see what he says so I don't blow the whistle.' But today he did it, unequivocally."
He added: "Just don't do anything, let's see what VAR says.
"And then we have the problem of 'clear and obvious error' because whoever is there at VAR is hiding behind that phrase.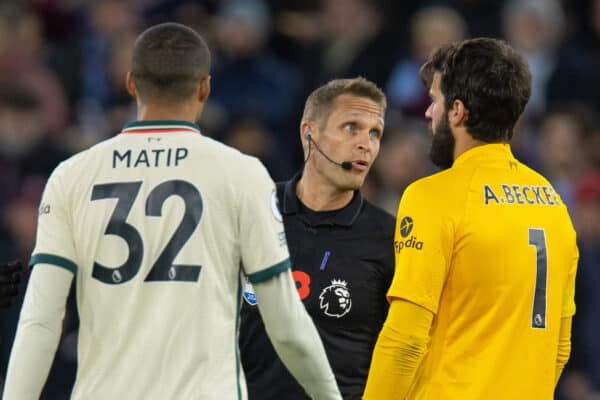 "Then we have two people hiding and we end up making the wrong decision."
Stuart Attwell was the VAR that day and both were expected to be handed bigger games after their natural rise through the career ladder.
Of the current referees, only Paul Tierney (27) and Anthony Taylor (28) have been appointed more Major league games last season than Pawson (26), who was tied with Michael Oliver.