The dark web is a scary place, and the last thing you want is to have any personal information about you for scammers to get their hands on. recently, United States Department of Justice revealed that Genesis Market, a criminal marketplace website that sells access to more than 80 million login credentials, including usernames and passwords, has finally been seized and 119 of the site's users have been arrested. This illegal platform allowed cybercriminals to prey on individuals, businesses and governments around the world, causing massive damage.
CLICK TO RECEIVE KURT CYBERGUY'S NEWSLETTER WITH SAFETY NOTICES, QUICK TIPS, TECH REVIEWS, SAFETY AND EASY INFO TO MAKE YOU SMARTER
What did Genesis Market do?
Genesis Market has been around since 2018 and has been huge a resource for hackers because it would allow them to specifically seek out information for the next victims. This included anything from social media to bank account credentials and could also be targeted to the user's location
The website will operate by selling these credentials and personal information, as well as selling access to user cookies and browser fingerprints. By doing this, hackers could bypass additional protections users may have on their accounts, such as two-factor authentication. Genesis was even able to provide a browser extension that would allow hackers to spoof a victim's fingerprint using login cookies to gain access to the account.
How can I check if my information has been sold on the dark web?
To check if your information has been sold on the dark web, you can go to haveibeenpwned.com and enter your email address in the search bar. The website will look up what your data is. You may have even received an email from a website telling you that some of your data has been stolen, and you should investigate this immediately if that is the case.
MORE: HOW YOUR BROWSER MAY BE AT SECURITY RISK
What should I do if my data has been stolen?
First, you must sign out of all your accounts in every web browser on your computer. Once you do that, you totally should clear cookies and caches. If you don't know how to do this, follow these steps.
How to clear cache and cookies in Chrome
Open Chrome
Click 3 vertical dots in the upper right corner
Choose More tools later Clear browsing data
Choose time range above. To delete all, select All the time
Check the boxes next to them Cookies and other site data and Cached images and files
Click Clear data
How to clear cache and cookies in Safari
Open Safari
In the upper left corner of the screen, tap Safari and then click Settings
Click in the box that appears Privacy
Click Website Data Management
Select all the websites in the list and click Delete all
A pop-up window will appear asking you to confirm that you want to delete all data stored by websites on your computer. Click Delete now
Click Ready
YOU WON'T BELIEVE HOW MUCH MONEY HACKERS MAKE BY STEALING YOUR DATA
How to clear cache and cookies in Microsoft Edge
Open edge
Choose Settings and more in the upper right corner of the browser window
Choose Settings
Click Privacy, search and services
Under Clear browsing datapress Clear browsing data
Choose Choose what to clear
Under Time rangeselect a time period from the list
Choose Cookies and other site dataand then select It's clear now
How to clear cache and cookies in Firefox
Open Firefox
In Art Menu bar at the top of the screen, click Firefox and select Preferences
Choose Privacy and security panel
Go to Cookies and site data separation
Click Clear data… button. The Clear Data dialog box will appear.
Click It's clear
FOR MORE OF MY SECURITY WRITINGS, SUBSCRIBE TO MY FREE CYBERGUY REPORT NEWSLETTER AT CYBERGUY.COM/NEWSLETTER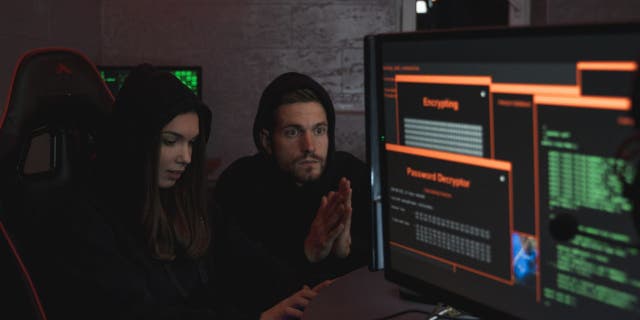 SAY GOODBYE TO GOOGLE PASSWORDS AND HELLO TO GOOGLE PASSWORDS
Invest in removal services
While no service promises to remove all of your data from the Internet, having a removal service is great if you want to constantly monitor and automate the process of continuously removing your information from hundreds of sites over a longer period of time.
See my tips and top picks for how to remove yourself from the internet by going to CyberGuy.com/Delete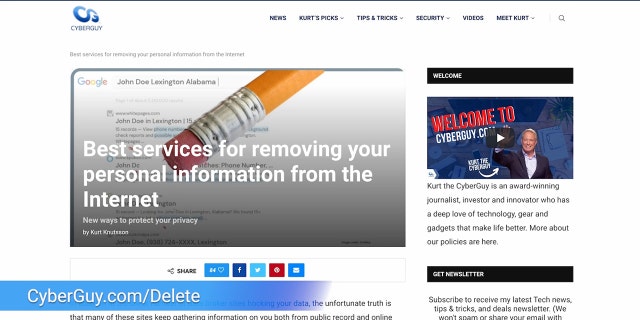 Install good antivirus software on all your devices
Once you follow these steps, the best way to protect yourself from your data is corrupted is installing antivirus protection on all your devices.
Having good antivirus software installed can prevent hackers from accessing your devices. Having antivirus software on your devices ensures that you don't click on any potentially malicious links that could install malware on your devices, allowing hackers to access your personal information.
See my expert review of the best antivirus protection for yours Windows, Mac, Android and iOS devices by going to CyberGuy.com/LockUpYourTech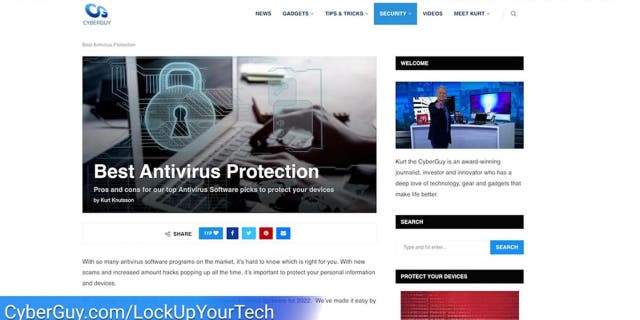 Change your password
If your password has been compromised, change it immediately.
My tips and expert-reviewed best password managers of 2023 can be found here.
Kurt's background information
The takedown of Genesis Market and its associated criminals was a major victory for law enforcement. However, another criminal shopping sites are still on the dark web. They want to sell your personal information, which allows hackers to bypass security measures. It is important for you to verify that your information was on Genesis and take steps such as logging out of your accounts, clearing your cache and cookies, and installing antivirus software to protect yourself. Additionally, investing in removal services can help monitor and remove personal information from the Internet.
CLICK HERE TO GET THE FOX NEWS PROGRAM
Are you on the dark web? What steps have you taken to remove your information from these sites? Let us know how you get on. Let us know by emailing us at Cyberguy.com/Contact
For more of my tips, sign up for my free CyberGuy Report newsletter at CyberGuy.com/Newsletter