The US Coast Guard reported the crews saved 34 Haitians abandoned by smugglers on a cliff in Puerto Rico on Monday.
The USCG cutter Heriberto Hernandez, a 154-foot vessel bound for San Juan, responded to reports of a group of people stranded on the uninhabited Monito Caye Nature Reserve, located near Mona Island, Puerto Rico.
Coast Guard rangers in San Juan initially reported the stranded group after receiving a tip from Puerto Rico's Department of Natural and Environmental Resources park rangers.
A Coast Guard Ocean Sentry aircraft flew over the area and confirmed seeing several fires, prompting the vessel to respond.
MEDICAL TRANSPORT PLANE CRASHES OFF HAWAII COAST, COAST GUARD SEARCH UNDERWAY
Coast Guard Cutter Heriberto Hernandez Commander Lt. Robert Renfrow said the crew performed admirably in the five-hour rescue phase in high-risk water with 10- to 15-foot waves.
"This case is concrete evidence that smugglers are more than willing to abandon people in very harsh and very dangerous conditions like Monita," Renfrau said in a statement.
FLORIDA KEYS LIFEGUARD SEES COAST GUARD Rescuing 22 PEOPLE, MANY CHILDREN, FROM OVERLOADED SAILING VESSEL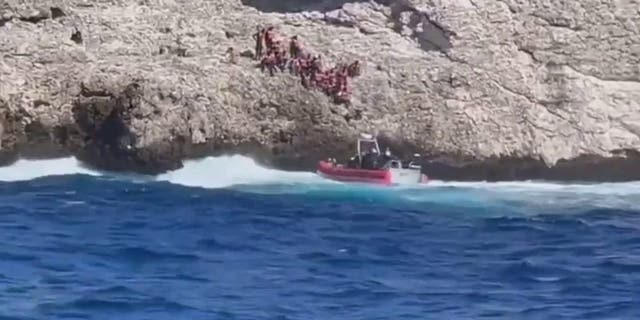 To complete the rescue, the cutter Heriberto Hernández launched a small boat to approach the rock as the group of people moved to the lowest point. Once the boat was in place, each person took turns jumping off the cliff into the water, where they were pulled to safety.
When the small boat returned to the large vessel, the group was given food, water and basic medical care. The survivors, 26 men, seven women and one boy, were transferred by a U.S. Border Patrol agent to Rami Sector in Mayaguez, Puerto Rico.
The rescue was part of an ongoing interagency effort in support of Operation Caribbean Guard and the Caribbean Border Interagency Task Force.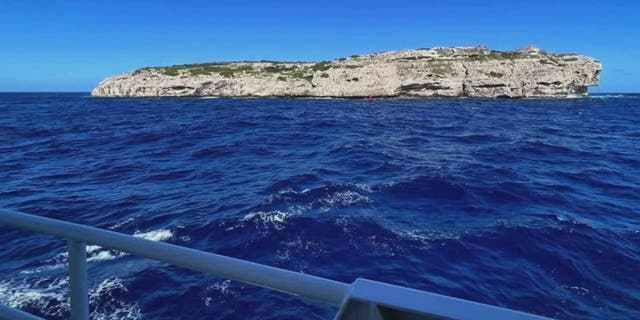 CLICK HERE TO GET THE FOX NEWS PROGRAM
Between October 1 and November 30, the Coast Guard reportedly intercepted 11 illegal flights in the Mona Strait and waters off Puerto Rico, carrying a total of 324 people. without US citizenship. The USCG said 300 of those people were Dominican, 23 were Haitian, and one person's nationality was unknown.