Iran publicly hanged a man on Thursday in front of a large crowd, the Islamic Republic's latest execution, a rights group said.
The unknown person was convicted of "corruption on earth" and hanged in St the city of Marage, This was reported by the Iranian Organization for Human Rights (IHR), which is based in Norway.
He was found guilty of having relations with women, but specific crimes were not immediately clear, reports The Times of Israel.
The killing shows "the true face of a government that is trying to prolong its life by brutalizing, humiliating and intimidating the public," IHR director Mahmoud Amiri-Moghaddam said in a statement. "The global community must not adopt such medieval practices in 2023."
Iran Shows Off Deadly New Missile With "DEATH TO ISRAEL"
An image posted by the group shows a blindfolded man standing next to two cats wearing balaclavas during the day. Another appeared to show hundreds of people gathered to watch the execution. They were standing behind the security tape.
Second only to China, Iran executes more people than any other country, according to The Times of Israel, citing a report by Amnesty International. Despite the death toll, public executions are rare in Iran, with most being carried out in prisons.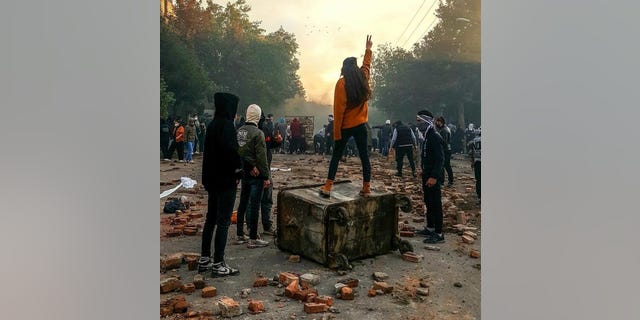 CLICK HERE TO GET THE FOX NEWS PROGRAM
According to the IHR, there were no public executions in the country in 2021. The country has seen a surge in executions in an attempt to keep the public informed after the wave anti-government protests, the news report said. Critics say the authorities have cracked down on dissent through puppet courts and suppression of free speech and due process.
In the first five months of this year, 278 people were executed, according to the IHR.